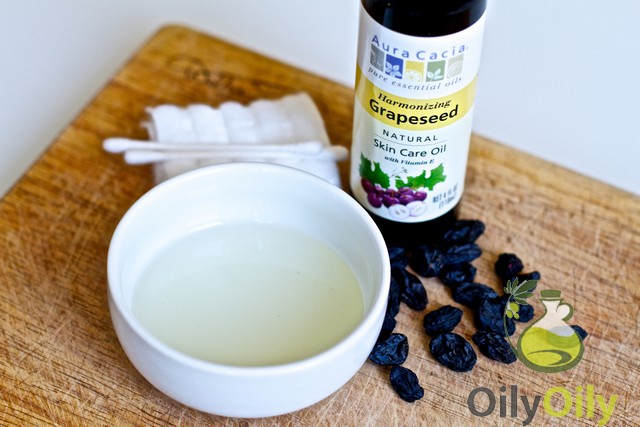 The use of grapeseed oil for skin care shows that the oil is not only good for cooking, but also even more effective when applied topically. What can we use the oil for?

The main grapeseed oil benefits for skin
They are the following, according to the book by Nerys Purchon "The Essential Natural Health Bible: The Complete Guide to Herbs and Oils, Natural Remedies and Nutrition".
Moisturizing and supplying activity.

Anti-aging activity.

Skin tone improvement.

Damaged skin treating (grapeseed oil for acne scars, stretch marks, dermatitis). Read more about grapeseed oil and acne.

Easily absorbed into the body due to the structure of its molecules; gets deep inside skin layer.

Safe for sensitive skin with the tendency for allergy.

Can be used as eye makeup remover and lubricant for shaving.

Suites all skin types.
SEE ALSO: Coconut Oil for Face – Benefits, Tips and Recommendations
How to use grapeseed oil for skin care
It is possible to use plain grapeseed oil or to mix it with other ingredients.
1.

Moisturizing
The skin should be cleaned prior to applying the oil, notices skincare tester Paula Begoun. There is no need in drying the skin completely after washing. It should stay a little damp instead. The oil will help to retain moisture inside the skin cells. Natural Vitamin E is very efficient for this purpose and grapeseed oil is rich in it. Find out grapeseed oil nutrition facts.
To use grapeseed oil for face moisturizing its rather thick portion should be spread on the skin one or two times a day. Another option is to add a few drops of grapeseed oil right into commercial product for skin care.
2. Anti-aging influence
Grapeseed oil is rich in the strongest of antioxidants and Vitamin E. According to the University of Maryland Medical Center, they work in a few directions at once:
ward off free radicals through increasing the concentration of antioxidants in blood;

protect the collagen and elastin in skin.
Using grapeseed oil for skin care only several times per week will help prevent first wrinkles and fine lines.  
RELATED: Rosehip Seed Oil for Skin
3. Skin tone improvement
To solve the problem of uneven skin tone cell rejuvenation is needed. Skincare tester Paula Begoun reports that the regular use of Vitamin E sources for skin care will help improve the skin's general appearance and to protect the skin from future damage. Holistic skin care expert Cecilia Wong notes that grapeseed oil also helps regulate the natural oil balance of skin.
4. Treating skin imperfections and diseases
Omega fatty acids and antioxidants in grapeseed oil have anti-inflammatory, anti-allergic and anti-bacterial activity ("International Journal of Molecular Sciences", 2010). The oil assists the treatment of psoriasis, eczema, acne and sun burns, it also cleans out pores.
Besides, there is the amazing positive effect of grapeseed oil on stretch marks, acne scars and age spots. The State University of Ohio published the study result which says: "Grape seed extract helps speed up wound recovery".
The oil can be added to bathwater or applied straight onto the skin. According to Parent time, the result will be better if the oil is massaged deep into the affected areas for about 3 minutes. You may mix it with neem oil beneficial for skin. A hot towel should be placed over the skin afterwards.