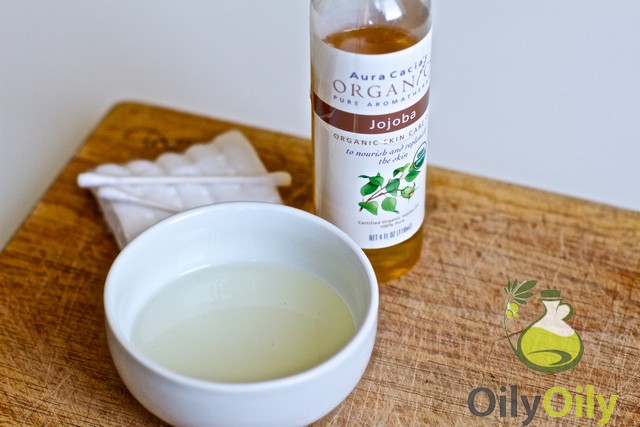 Nail oil with jojoba and vitamin E nourishes our nails intensively, help soften cuticles, strengthen the nail plate, prevent delamination and fragility of nails, accelerate their growth and even serve a protective function, protecting nail against fungal infection.
What is jojoba oil?
Jojoba oil is popular all over the world, and has been used for centuries to care of skin. This is a treasure trove of nutrients, and its beneficial properties are endless. But regularly used in the cosmetic industry jojoba oil is actually considered to be a wax. But being wax, it easily enough penetrates into the skin, hair and when absorbed, doesn't leave any greasy luster. Read more about jojoba oil for hair.
As it describes the Agricultural Research Service, useful properties of jojoba oil are in a great amount of vitamin E – "beauty vitamin". This cosmetic product possesses unique antioxidant, antibacterial, regenerating properties. This oil is the base. And if to add a small amount of other vegetable oils to it, you can effectively take care of nails, hair, and skin.
SEE ALSO: Oil Cleansing with Jojoba Oil: Step-by-Step Guide 
Simple recommendations for caring your nails with jojoba
Why do we use jojoba oil? Brittle, layer, or ribbed nails, dry and sensitive skin of hands are the reasons for using jojoba oil, states Nail Pure.
Reasons for the problems with nails:
Usually ribbing and fragility of nails are caused by a lack of moisture;

Frequent interaction with water and household chemicals destroys the structure of the nail;
Jojoba oil for nails: instructions for using
To restore the nails you need jojoba oil. In addition to the oil, liquid vitamin E can be used, which can be easily found in a pharmacy. Apply jojoba oil on the nail plate and on the cuticle and rub it. Then, if you want, cover the nails with vitamin E. Jojoba oil also contains it and helps to absorb and better assimilate this vitamin. Use jojoba oil alone or with essential, 2 times a day. Rub the oil directly to the nail plate and the cuticle.
SEE ALSO: #1 Oil for Treating Nails, Cuticle and Hands! Easy Natural Treatment
A mixture of oils for nails and cuticles
Ingredients: avocado oil, jojoba oil, borage, vitamin E, CO2 extract of cucumber seeds, essential oils of lemon, tea tree, ylang-ylang. Read more about avocado oil benefits.
Application: The mixture should be rubbed into the nail plate and cuticle. You can use it every day.
And more:
After the procedure, wear gloves when in contact with water to neutralize the effect;

Keep a bottle of jojoba oil next to the sink in the bathroom to repeat after hand washing.
Nutrients in jojoba oil are enough to restore the nails in a short period of time. Nails, even after stopping of using jojoba oil, will be strong, beautiful and healthy for a long time.
P.S. We use this Jojoba Oil and very happy with the quality – it's pure and natural extract of organic plant. Certified organic by USDA.