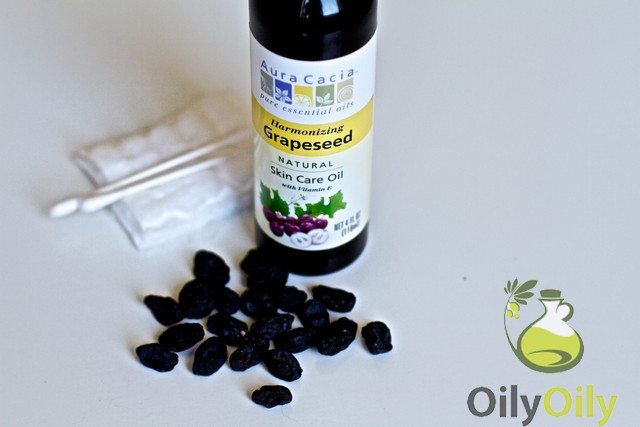 Grapeseed oil extract is the strong means of struggle against free radicals and all the health problems that they cause. It is made from the seeds of wine grapes. It takes everything useful from grape seeds and keeps it in the concentrated form; these are powerful antioxidants, flavonoids, Vitamin E, fatty acids (linoleic acid mostly). 
Free radicals are harmful for DNA and they can even cause cell death. Besides, they are responsible for the accelerating of aging process. According to the University of Maryland Medical Center, a study proved that consuming grapeseed oil extract significantly increased the amount of antioxidants in blood, especially powerful oligomeric proanthocyanidin complexes (OPCs).
Grapeseed oil extract health benefits
The University of Maryland Medical Center claims that there is the clear evidence of the grapeseed oil extract benefits for treating circulatory disorders (e.g. venous insufficiency, hemorrhoids and edema). Swelling, fatigue and pain seem to go away faster as high quality studies have shown.
Some studies (mostly in animals though) also show that grapeseed oil extract acts against bacterial infections, such as Staphylococcus aureus.
Promising results were achieved by another study on lowering cholesterol, conducted by the University of Maryland Medical Center. 40 volunteers with high cholesterol were under supervision for 2 months. The group which consumed the combination of grapeseed oil extracts and chromium lowered their "bad" (LDL) cholesterol to the highest degree. Find out how krill oil regulates cholesterol.
In test tubes grapeseed oil extract prevented the reproduction of breast, prostate, colon, lung and stomach cancer cells. However, there is no good prove yet whether it works in humans.
A few studies discovered that grapeseed oil helped maintain weight. Maastricht University, the Netherlands, published the study (European Journal of Clinical Nutrition, 2004), according to which grapeseed oil extract might reduce energy intake in overweight subjects. Study in Spain (Journal of Nutritional Biochemistry, 2010) found that grapeseed oil extract corrected insulin resistance. The research of Diego A. Moreno, Ph.D. (Nutrition, 2003) suggested that grapeseed oil extract might be useful for limiting fat absorption and the accumulation of fat in adipose tissue. Read more about grapeseed oil uses.
SEE ALSO: Argan Oil for Face
Grapeseed oil extracts beauty benefits
There is some evidence (study of Tsukuba Research Laboratories, Sweden) that grapeseed oil extract can be used as hair loss treatment. Still it is not approved for hair loss by the U.S. Food and Drug Administration. Combine it with grapeseed oil for hair care.
Rich antioxidant content in grapeseed oil extract improves over-all skin appearance. It reduces wrinkles and improves the elasticity of skin.
Linoleic acid in grapeseed oil extract may benefits for treating acne, dermatitis and itchy skin.
RELATED: Neem oil for Acne
Consumption
The dietary supplement of grapeseed oil extract can be found at drug stores and health food stores. They come in the forms of capsules, tablets and liquid extracts. The University of Maryland Medical Center advises to prefer products that contain 40 – 80% of proanthocyanidins or not less than 95% of OPC. Grapeseed supplements (not whole grapes, however) are not recommended for children, pregnant and breastfeeding women.
Grapeseed oil extract can potentially act as a blood thinner and affect medications broken down by liver. Therefore, if an individual has bleeding disorders or takes any medications, he should consult his physician prior to consuming the extract.