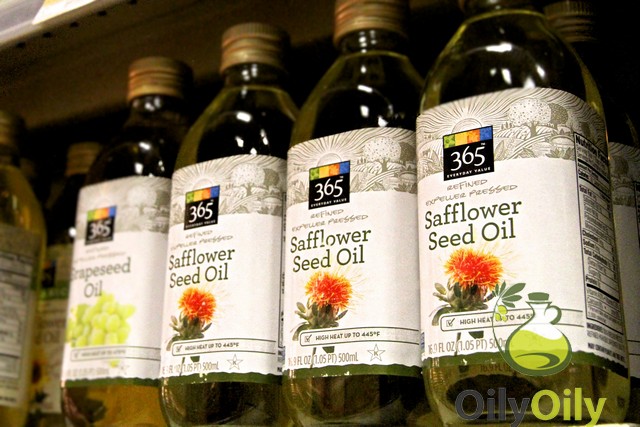 Safflower oil contains linoleic acid converted in our body into conjugated linoleic acid, which is a popular weight loss ingredient. This polyunsaturated fatty acid may promote fat burning and help your achieve better weight loss results.
Identification
Safflower oil is derived from safflower plant. There are two different types of safflower oil. It is usually indicated on the label if this oil is high oleic or linoleic one. If you want to buy safflower oil for weight loss, search for safflower oil with the high content of polyunsaturated fats or linoleic oil. This variety of safflower oil helps lose weight.
Function
Polyunsaturated fatty acids have a lot of essential functions in our bodies. Omega-6s stabilize cell membranes and keep hormonal balance. Safflower oil and linoleic acid increase fat oxidation and burn brown fat. CLA received from linoleic acid suppresses weight gain, lessens the fat percentage in the body and enlarges lean body mass.
The consumption of safflower oil instead of animal fat or trans fats is beneficial for the weight control. Fatty acids of animal origin or hydrogenated fats increase the risk of cardiovascular diseases and can lead to obesity. Safflower oil used to replace them will help you avoid such problems. Moreover, you may take safflower oil together with protein smoothies. They will fill you up and boost fat burning, as Jeff Anderson in its "Combat the Fat" writes.
CHOOSE THE RIGHT OIL! Coconut Oil and Weight Loss
Does safflower oil reduce belly fat
There is an opinion that safflower oil helps reduce belly fat. Some clinical studies show that safflower oil really lessens belly fat. Ohio State University carried out a study in 2009 where they tested safflower oil on obese postmenopausal women with diabetes of type II. They ingested 8 g of safflower oil every day. After 16 weeks they reduced 2 to 4 lbs. of belly fat.
According to the study described in the American Journal of Clinical Nutrition in September, 2009 safflower oil raises the production of adiponectin, a hormone connected with fat metabolism.  However, more studies are needed to answer the question: "Does safflower oil reduce belly fat?" with no doubt.
Consumption of safflower oil for weight loss
The following steps will help you lose weight and maintain a healthy body.
Search for expeller-pressed oil high in linoleic acid. Linoleic acid is an essential fatty acid that should be received from nutrition, it is not produced by the body.

Mix 2 teaspoonful of safflower oil with yogurt and fresh berries. Add flaxseed to raise the fiber content.

Make your own salad dressing from 1 tbsp. honey, 2 tbsp. of balsamic vinegar and 2 tbsp. of safflower oil. Sprinkle over steam vegetables or a fresh salad.

 
Considerations
Although safflower oil is connected with reducing belly fat, it is still fat. The excessive intake of any type of fat will contribute to weight gain. According to the recommendations of the U.S. Department of Health and Human Services a daily fat intake should be 20 to 35 % of the total daily calories. Don't simply add safflower oil to your nutrition; substitute it for any other fats. To reduce weight and get rid of belly fat, it is necessary not only to consume safflower oil as a part of the weight-reducing diet, but also to do regular physical activity.