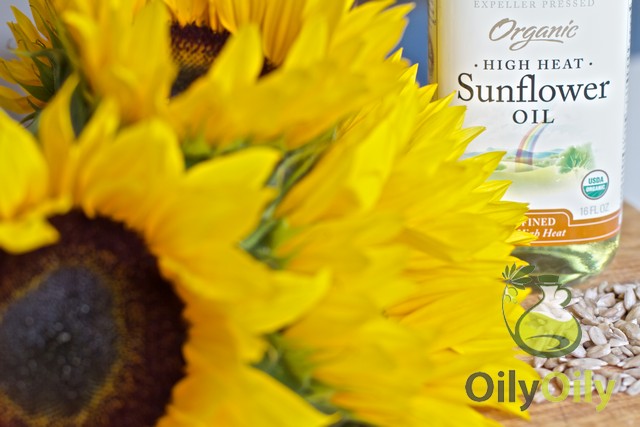 The Journal of Cosmetic Science notes that sunflower oil is one of the most common base oil in hair care industry. Valerie Ann Worwood in her book "The Complete Book of Essential Oils and Aromatherapy" says that sunflower oil is an effective ingredient for the conditioning of greasy hair. In addition, Caroline Bunker Rosdahl and Mary T. Kowalski in "The Textbook of Basic Nursing" state that sunflower oil for hair care has nourishing and strengthen effects. Such benefits of sunflower oil for hair are possible due to the rich nutrient content of the oil and its physical properties.
SEE ALSO: Top 3 Uses for Sunflower Oil
The valuable components of sunflower oil for hair car
Vitamin E
Sunflower oil contains a large amount of Vitamin E. In fact, it is one of the richest in this vitamin among other vegetable oils. In hair care products, Vitamin E acts as a powerful emollient. Therefore, sunflower oil for hair prevents natural moisture loss and has a softening effect. The regular applying of sunflower oil topically and consuming it orally will help keep your scalp and hair supple, to treat dry flaky skin. Hair will look shiny and lustrous and feel soft and smooth. 
Linoleic acid (Omega-6)
This fatty acid also defines the benefits of sunflower oil for hair. Spencer David Kobren in his book "The Truth about Women's Hair Loss: What Really Works for Treating and Preventing Thinning Hair" says that Omega-6 is essential to hair health. It helps prevent both men's and women's hair loss as well as alopecia areata. Kobren recommends consuming the sunflower oil internally for stronger hair – just one tablespoon daily.
SEE ALSO: How to Use Olive Oil for Hair Growth
The benefits of sunflower oil for hair from its physical properties
Sunflower oil for hair care is an excellent product because of its physical characteristics as well. They are the following: 
Sunflower oil is light and fine in texture.

Sunflower oil has very mild odor.

Sunflower oil is well absorbed by scalp skin and hair.

Sunflower oil is suitable for the diluting of essential oils.

Sunflower oil can be used for any type of hair.
Some practical usage of sunflower oil on hair
There is the following treatment for dry or damaged hair. Massage a quarter-size amount of sunflower oil into a damp warm scalp, then comb the oil throughout the hair length paying a special attention to the ends. Wrap your hair in a towel for up to an hour and then shampoo it thoroughly.       
Vissa Studios offers the recipe of sunflower oil shampoo for hair. 
Ingredients:
Water – 1/4 cup;

Liquid castile soap – 1/4 cup;

Sunflower oil – 1/2 teaspoon.
Shake the ingredients together properly, then use as any other commercial shampoo.
Sunflower hair conditioner. Make a mixture of wheat germ oil and sunflower oil (one cup of each), then warm it and massage into your hair. Leave the conditioner on for 1-3 minutes and wash it off