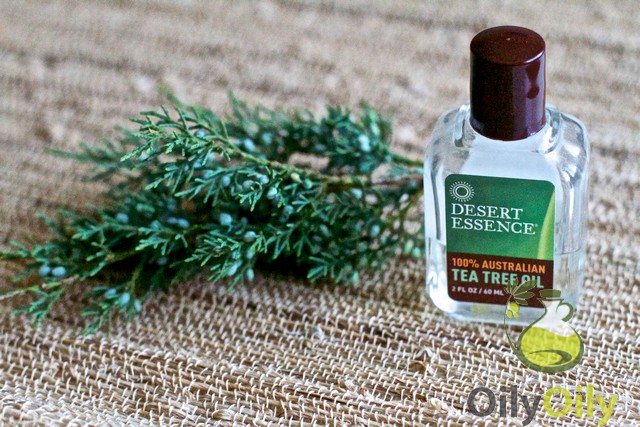 It is easy to do a tea tree oil shampoo at home. As it is stated in Wikipedia tea tree oil contains compounds with strong antimicrobial, antibacterial and antifungal properties. Tea tree oil is considered effective for treating dandruff and itchy scalp. It is recommended to apply tea tree oil for lice removal as well.
Recipe 1
To achieve the benefits of a teat tree oil shampoo you will have to make a 5% concentration tea tree oil shampoo. Simply add 1 teaspoon of the oil to 32 oz bottle of your shampoo. More than that can irritate your skin. Strong concentrations of tea tree oil solutions sometimes have an adverse effect (read more about tea tree oil side effects). In case you notice the increase in itching or redness stop using tea tree oil. Usually a 5% tea tree oil shampoo doesn't have any side effects and is completely safe for daily use against dandruff or itchy skin.
SEE ALSO:  Macadamia Nut Oil Shampoo for Everyday Care
Recipe 2
In case only one member of your family needs a tea tree oil shampoo, it is possible to add 1-2 drops of tea tree oil to the shampoo in the palm every time he or she washes the hair.
RELATED: Tea Tree Oil  Mouthwash Recipe
Recipe 3
If you prefer all natural products you may make a 100% homemade tea tree oil shampoo.
Mix ¼ of liquid castile soap, ¼ cup water, 10 drops of tea tree oil and ½ tsp. apricot kernel oil. Mix with a wooden spoon. Try to avoid too many suds that's why don't over-mix.
Pour the tea tree oil shampoo into a sealed container, a glass bottle is the best.
Store at a room temperature. You may use it as any other shampoo. Use daily to treat dandruff or to eliminate lice.
You may add sweet almond oil, jojoba oil instead of or together with apricot kernel oil. Almond oil is perfect for hair. Shampoo with added essential oils can irritate your eyes or other sensitive areas.