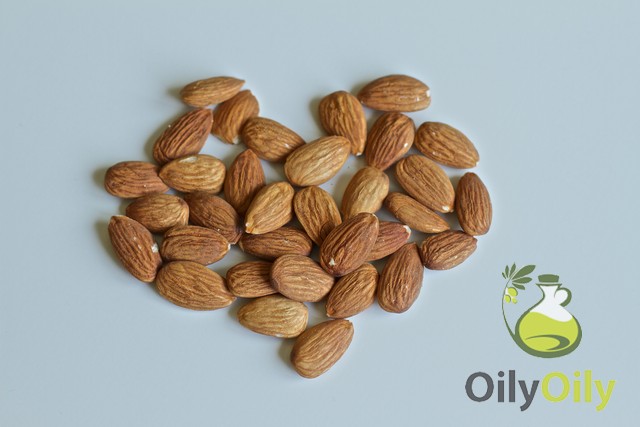 Almond oil is derived from almond nuts. There are two types of it: sweet and bitter almond oil. When we are talking about almond oil for hair we mean sweet almond oil. Sweet almond oil is pale yellow oil. It is added to many cosmetic products such as massage oils, hair shampoos, conditioners, etc. Besides, sweet almond oil is taken orally to achieve benefits of almond oil from inside.
Almond oil nutrients
As Wikipedia states, almond oil is high in a large number of important nutrients. There are monounsaturated and polyunsaturated fatty acids, vitamins B1, B6, B2 and E, as well as calcium, iron and magnesium in sweet almond oil. All these ingredients make sweet almond oil beneficial for hair. Vitamin E is commonly known as essential for hair, and almond oil satisfies the needs of hair and scalp in this very vitamin.
SEE ALSO: Almond Oil for Skin: Benefits, Application Tips and Warnings  
Benefits of almond oil for hair
We may get a lot of benefits if use sweet almond oil for hair, according to Susan Knowlton (article "Almond Oil Health Benefits"). It helps nourish, recondition and soften scalp and hair. Almond oil soothes hair cuticles. Hair becomes healthy, stronger and thicker.   Massaging almond oil into scalp lets improve blood circulation. Masks with almond oil may make dull hair shiny. Almond oil mixed with tea tree oil helps fight dandruff. Regularly application of almond oil for hair growth can greatly lessen your hair fall.
SEE ALSO: Easy, Cheap and Effective Olive Oil Hair Treatment 
Uses of sweet almond oil for hair
Here are some ways of how to use almond oil for hair growth and conditioning.
Massage. You may put some almond oil on hair and scalp and massage it for 15-20 minutes.  Leave it for more 45 minutes or overnight, wash with a shampoo afterwards.
Leave-in conditioner. You should take several drops of almond oil, rub them in the palms and then put on your hair. Your hair will become lustrous and you will forget about split ends. 
INTERESTING! 9 Easy Uses for Almond Oil
Ready-made almond hair oils
You can use ready-made almond hair oils or you may do almond oil hair masks at home. The most widely known almond oils for hair are India's brands. Now Foods Sweet Almond oil has twice the amount of Vitamin E and it includes almond protein. Bajaj Almond Drops Hair Oil comes in glass bottles keeping up essential properties and aroma of almond oil. Vatika Almond Hair Oil has a unique formula that helps moisturize, soften and condition your hair.
DIY recipes
It's a great idea to make a superb hair conditioner at home.
Honey-almond conditioner recipe. Take 1/2 cup of honey, 1/4 cup of sweet almond oil, 1 tbsp coconut oil and several drops of essential oil you like. Mix the ingredients and apply on your hair. Leave for a half an hour. Rinse thoroughly.
Recipe with almond oil for hair loss treatment. Take 3 tbsp almond oil, 3 tbsp castor oil and a petal of hiiscus flower. Mix, warm and rub into your scalp. Massage for 10 minutes and then leave for an hour. Shampoo it. 
Warning
If you put too much almond oil on hair, it may become greasy, so use it in moderation.
You may be allergic to almond oil, so before applying it you should have an allergy test.