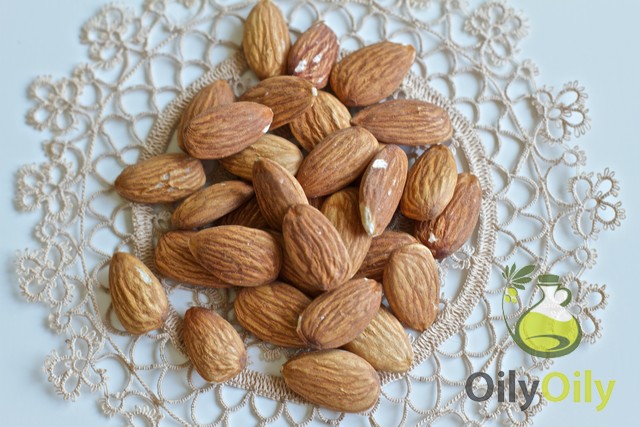 Almond oil for skin is pressed from the dried nuts of sweet almonds. As sweet almond oil possesses a lot of therapeutic, moisturizing and lubricating properties, it is widely used for skin care, according to the article "Enjoy the Health Benefits of Almond Oil for Skin". Sweet almond oil can act as carrier oil, because it is safe, so it is added to many cosmetic and beauty products.
Benefits of sweet almond oil for skin
Almond oil is highly lubricating, which makes it very useful for people with dry skin.  It quickly penetrates the skin and recovers dry, flaky and cracked skin, as Susan Knowlton (article "Almond Oil Health Benefits") states. It helps smooth the very hard skin on elbows, heels and knees. Almond oil is applied by people with skin allergies to moisturize and sooth eczema.  Chapped skin and infections can be treated with sweet almond oil as well.
Sweet almond oil is considered a perfect emollient. It is widely-used as spa oil, because it is absorbed easily, not very greasy and without a strong fragrant. Massaging with almond oil assists in restoring the skin's pH balance and keeping moisture inside.
SEE ALSO: The Astonishing Health Benefits of Almond Oil
Sweet almond oil for face
Sweet almond oil is used for skin lightening, because regular use cleans the skin and makes it supple and soft.
Almond oil also helps avoid dark circles under the eyes.  Skin under the eyes is the first to suffer and loses moisture easily.  If you apply almond oil under the eyes daily and massage it the skin under your eyes will feel moisturized and recovered. Almond oil mixed with honey will lessen puffiness around your eyes and make the skin lighter.
Almond oil contains high amount of vitamin E, a strong anti-oxidant and an essential vitamin for our skin. It helps lessen the number of wrinkles and delay their appearance. To achieve results you should apply almond oil every night after cleaning the neck and the face.
Almond oil is famous for its antimicrobial properties are: 
lightening and reduction of  dark spots and facial scars;

healing sunburn;

assistance to even out the skin complexion and tone.
Men benefit from almond oil use for skin care as well during shaving. Almond oil can be used instead of shaving creams and will prevent shaving cuts.
SEE ALSO: Almond Oil for Skin Whitening: Natural Way to Even Your Complexion
Application
Almond oil can be applied directly on the skin, mixed with other ingredients. You may mix almond oil with lemon, honey or essential oils. Or you may buy ready-made almond oil for skin, for example, Weleda Almond Soothing Facial Oil which consists of sweet almond oil, plum seed oil and blackthorn flower extract.
Warning
Oil extracted from bitter almonds is not suitable for skin care. Make sure you apply sweet almond oil for skin.
Almond oil shouldn't be used by people allergic to nuts.
Store the oil in a dark and cool place. Oil may leave stains on clothes.
SEE ALSO: 9 Easy Uses for Almond Oil