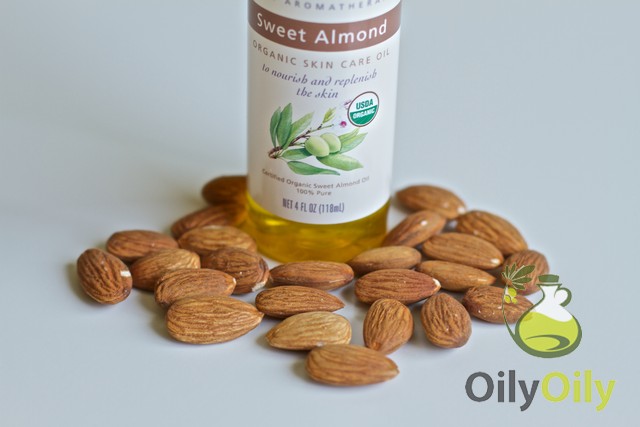 Almond oil used for babies is a sweet variety of almond oil extracted from almond nuts. It is translucent and lightweight. It has a light yellow color and a mild sweet flavor and scent.
Almond oil composition
Oleic (monounsaturated) and linoleic (polyunsaturated) fatty acids are found in almond oil. Many vitamins and nutrients are found in almond oil. This oil includes vitamins B2, B6, and high levels of vitamin E, essential for our skin. Due its composition almond oil is widely-used in skin care products, such as creams, lotions, massage oils and what not. Dermatologists and pediatricians recommend using almond oil for babies' care. It suits any type of skin, even very sensitive one and possesses emollient, moisturizing, protective properties, as Wikipedia states.
SEE ALSO: Does Your Kid Really Need Fish Oil?
Benefits of almond oil for babies
The emollient properties of almond oil make it a wonderful babies' skin softener as it gently soothes the skin. It is possible to use almond oil as a lip balm for babies to soften dry, wind-blown or chapped lips.
Sweet almond oil helps retain moisture in the skin cells and gives additional hydration to the skin. It is especially important for babies as they often suffer from dry skin for the first months after birth and after taking a bath.
Almond oil for babies won't clog the pores and won't cause skin problems. Vice versa it heals inflammation, eczema and even bacterial rash. Almond oil helps stop itching connected with babies' eczema.  Apply almond oil on the affected area several times a day and you baby will feel better. Almond oil also assists in dealing with cradle cap, or seborrheic dermatitis. You may rub almond oil on the scalp, leave for 30 minutes, wipe it off and then brush gently.
Babies' skin is very sensitive. Parents often face difficulties to find skin care products that are not irritating. Studies show that almond oil for babies is completely safe and can be used for their delicate skin. Moreover, it is light and easily penetrates the skin.
SEE ALSO: 9 Easy Uses for Almond Oil
How to use almond oil for babies
The best way to take care of your baby's skin is to make an after-bath massage with almond oil, according to the recommendation of the study of Vanderbilt University "Massage Therapy and Infants". This massage helps relieve the dry skin babies are prone to. It soothes the skin and moisturizes it. Massage with almond oil is calming and helps a baby to fall asleep.
Massaging a baby after the bath with almond oil also stimulates blood circulation, respiration, lets avoid digestion problems, as well as ease pain.
To make a massage with almond oil after the bath you should warm your hands, take a small amount of almond oil and gently massage your baby. Start from arms, then massage baby's legs, chest, belly and back. Remember massaging the scalp with only tips of your fingers. Do circular motions. Add more almond oil if your baby has cradle cap. If not, use only several drops of the oil.
Warning
Always before the first application of almond oil on your baby's skin check for a possible allergic reaction. Put a drop of the oil on the baby's arm. Make sure that your baby won't have any reaction for a day. Unfortunately, children often have a nut allergy. And it is always better to consult a doctor before introducing any new products to your baby's life.