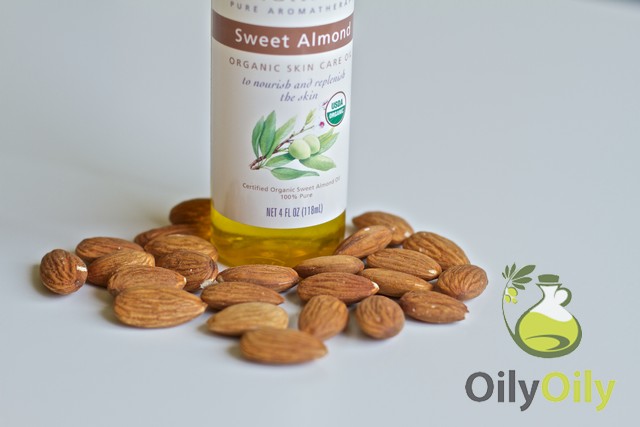 Studies have shown that application of almond oil for acne treatment is effective. Almond oil is often preferred to other oils as it is light and not greasy, it has a pleasant and slight scent, and it does work. Of course, the results may be different, as with any drugs, supplements and cosmetic products they often depend on a person's state of health and the body's reactions. In general, almond oil helps treat acne. High in fatty acids, it is one of the most famous oils for skin problems treatment, as Health Guidance states.
How does almond oil help treat acne problems? Some people tend to produce too much sebum with the sebaceous glands. This fatty substance leads to the clogging of the facial pores. Eventually, some mild infection may appear because of clogged pores and it causes acne.
According to the article "Almond Oil for Acne", mono- and polyunsaturated fatty acids of almond oil dissolve sebum. The oil cleans skin pores and recovers the skin condition. One more ingredient of almond oil beneficial for acne treatment is vitamin E. This vitamin helps unclog pores of your skin thus assisting in skin pores cleansing from dirt. Almond oil has a light structure, it easily penetrates the skin, without greasy traces, additionally moisturizing and nourishing it.
SEE ALSO: Can Coconut Oil Clear Acne?
SEE ALSO: Does Coconut Oil Clog Pores?
The ways of using sweet almond oil for acne
You should clean your hands and your face removing all make up. Take some amount of almond oil with your hands and gently massage it on the face. Leave it to soak in. Do it every night before going to bed. Almond oil penetrates quickly and won't leave greasy spots on your linen.

The second method to use almond oil for acne treatment includes application of almond oil on the unwashed skin with clean hands. Simply clean off makeup, debris and other substances from your skin with the help of almond oil. Rinse and dry the face. Then apply the second layer of the oil on the clean skin, rub it. It will not only treat acne but also hydrate the face.  

SEE ALSO: Almond Oil For Dark Circles
Attention: What Almond Oil To Choose
You should pay attention to several things before using almond oil for acne treatment. Look for therapeutic grade almond oil. It is more effective for acne. Refined oil doesn't fit, especially hydrogenated one. 100% pure organic cold-pressed unrefined is the best.
It is also necessary to buy sweet almond oil for acne, not bitter almond oil. Pay attention to it. Bitter oil is harmful for the skin. Sweet almond oil for acne treatment can be bought at drugstores, beauty stores and large retail stores. It is inexpensive that makes it an excellent alternative to other available acne treatment
Test almond oil on a small area of skin before application. Make sure that the oil suits you. In general, almond oil fits all types of skin, including highly sensitive one.
However, people allergic to nuts must avoid almond oil because of the possible severe allergic reactions.
OFFER – Save 40% on Exposed Skin Care today! 98% of user saw clearer skin.