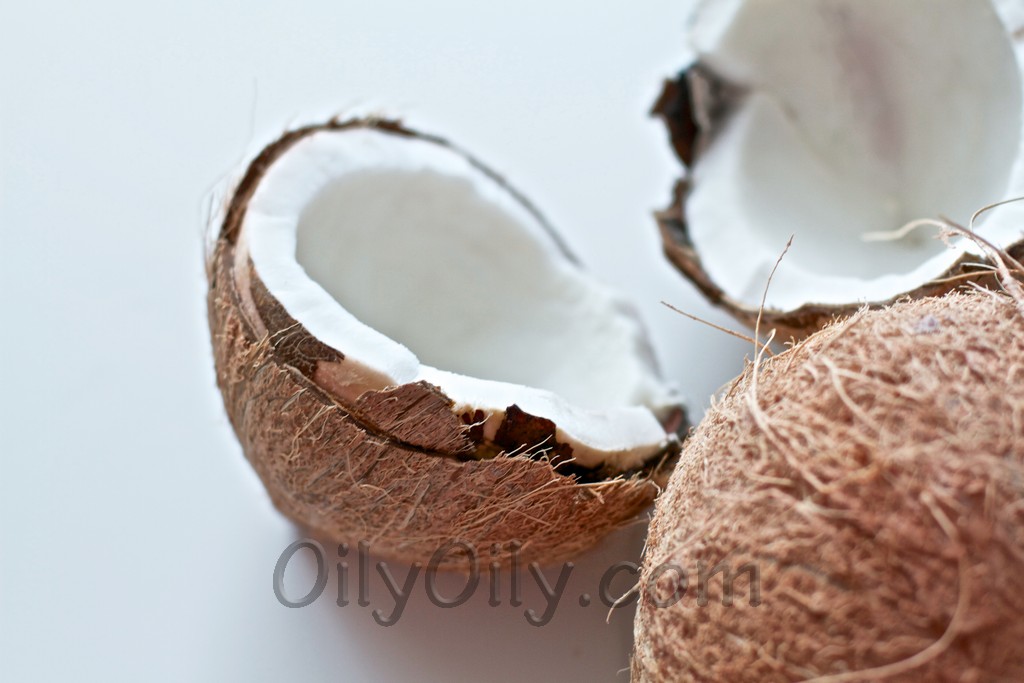 Many people believe that acne takes place on oily skin and oily products can't be applied to heal it. When we talk about coconut oil and acne we should have in mind that coconut oil has antibacterial properties and can be applied for acne treatment. The lauric and capric acids of coconut oil are converted into monocaprin and monolaurin on our skin. They fight harmful microbes and heal acne.
SEE ALSO: Ever Wondered What Coconut Oil Brand Is The Best?.. – to find out what coconut oil we use and why!
One more helpful ingredient of coconut oil for acne is vitamin E. This vitamin unclogs skin pores thus cleansing skin pores from dirt and preventing skin from acne. Coconut oil has a light structure; its saturated fats easily penetrate skin moisturizing and nourishing it. Coconut oil possesses cooling properties so it helps lessen skin rash or inflammation. Read about Coconut Oil Nutrition Facts.
What coconut oil to choose for acne treatment
If you want to use coconut oil for acne treatment choose only organic or virgin coconut oil. Only this oil will unclog the pores. Refined coconut oil especially hydrogenated one can make worse and vice versa clog your skin pores.
Detox effect
You should also remember that when you just begin to use coconut oil acne can become worse at first. It is called healing crisis. Coconut oil is absorbed deep into your skin and begins to fight toxins and push them to the upper layers. This healing crisis may frighten you and make you believe and coconut oil and acne are incompatible. The truth is that the detox effect of coconut oil proves that coconut oil influences acne and purges the skin. You need to just wait a little. If you meet a lot of people every day and you are afraid of this adverse effect you may apply a small amount of coconut oil for acne area every evening after skin cleansing. As you apply a little acne healing will be slower, however you won't get a serious breakout.
Application of coconut oil for acne
The first way to apply coconut oil for acne is topical. Use a cleanser to make your face clean, apply coconut oil and carefully and softly massage it. It will help coconut oil penetrate into deeper layers of your skin. In 15 minutes clean your face with a cloth and wash the face with water.
If your aim is perfect skin in spite of possible healing crisis you may use coconut oil not only topically but also orally. If you consume 1 tablespoon of coconut oil acne is healed from inside as well. You can eat it on its own or mix with other food. See also: Why Take Coconut Oil Capsules and Which Brand to Choose.
Some people can have an allergy reaction to coconut oil. Although coconut oil is not among the list of allergenic products you should be careful and try a small amount of coconut oil in some sensitive area. (Read more about Coconut Oil Side Effects)
So coconut oil can give you an acne-free skin, it may also remove scars of acne, moisturize your skin and protect from bacteria.