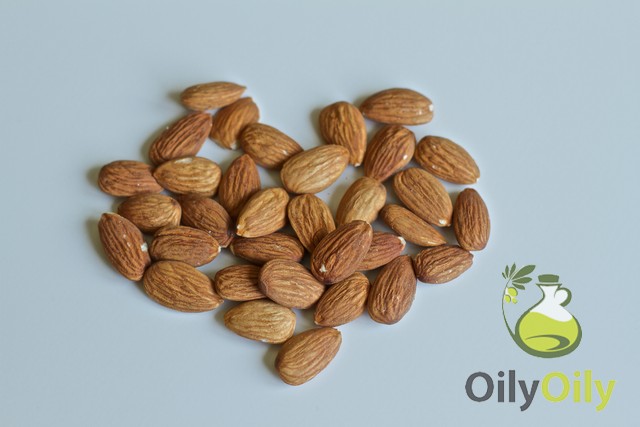 Have you applied almond oil for dark circles? How can almond oil help with dark circles? Is it safe to use almond oil for eyes?  Let us find out the ways of the eyes skin care with almond oil.
According to Wikipedia, almond oil contains a large amount of nutrients including unsaturated fatty acids, vitamins and minerals beneficial for our skin. Eyes skin is very sensitive and should be treated with high care. Sometimes cosmetic products with chemicals are not suitable for eyes skin. Almond oil is wonderful for skin care and especially for the skin around the eyes. It is light and not greasy. Only make sure that you use sweet almond oil.
Benefits of almond oil for dark circles
Almond oil is a natural emollient. It softens, soothes and moisturizes the skin. Applying it or better massaging on a dry undernourished and tired skin around your eyes will give your skin the necessary nourishment and moisture. Almond oil is a rich source of vitamin E and vitamin K, effective in lessening puffiness and dark spots under the eyes, accordng to the article by Susan Knowlton "Almond Oil Health Benefits". Almond oil can control the water balance and prevent water loss. Fatty acids in this oil rejuvenate dry and dull skin.
How to apply sweet almond oil for dark circles
Almond oil easily penetrates the skin, its texture is so light that you won't feel greasy.  Use this oil around your eyes daily before going to bed.
Clean your face and make it dry with a towel. Put a very small amount of almond oil around the eyes with help of your fingertips. Then gently massage the skin under your eyes. A gentle massage can help improve blood circulation and lessen wrinkles and fine lines. To achieve required results you should use it every night.
It is possible to mix almond oil with honey or milk powder. Massage with such pastes or masks with them will help you treat dark circles under your eyes.
Benefits of almond oil for eyelashes
Monounsaturated fatty acids as well as vitamin E, calcium and magnesium provide much nourishment to your eyelashes. Almond oil has a moisturizing influence on the eyelashes which make the eyelash hair shiny and lustrous.
Almond oil possesses strong emollient properties, it softens the hair cuticles. In turn it results in long and thick eyelashes growth. Almond oil makes the hair follicles stronger and it prevents their falling off. Healthy eyelashes don't grow on dry and dull skin. Massaging almond oil on the eyelid assists in restoring pH balance and improvement of blood circulation. Thus it leads to healthy eyelashes growth.
When almond oil is applied on your eyelids you won't have any heavy or greasy feeling. Almond oil is fit for all skin types, even for a highly sensitive skin. The only contraindication for almond oil is allergy to almonds.
How to apply sweet almond oil on eyelashes
You should apply almond oil after you remove your make-up and clean the face.  Use only pure almond oil. Apply almond oil on your eyelashes with fingertips or with an eyelash brush. Take care that no oil will enter your eyes.
FREE OFFER – Get 2 free jars of Eye Cream by Revitol now