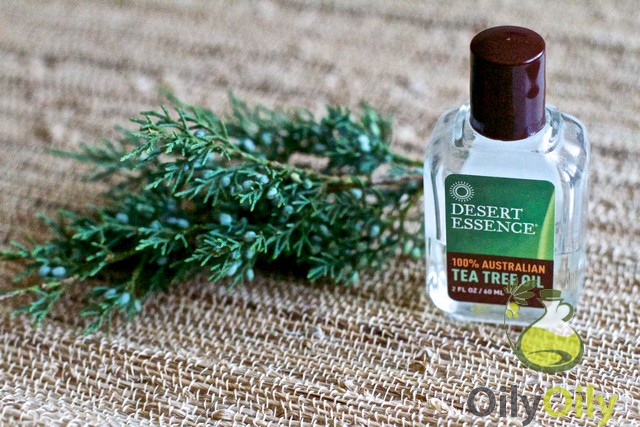 Tea tree oil benefits are the result of its constituents. According to Wikipedia, tea tree oil consists of over 98 organic compounds. The main of them terpinen-4-ol, cineole, terpineols and cymones work together to add tea tree oil antibacterial, antiviral, antifungal and antiseptic properties and make it effective for treating a great variety of health conditions. The oil possesses a strong odor which contributes to its usage in aromatherapy. 
What is tea tree oil good for?
Skin treatment
One of the most important benefits of tea tree oil is its effectiveness against all types of skin infections. Tea tree oil may help you with any skin problem you meet. It has so many benefits for the skin that the Australian army adds tea tree oil to soldiers' first aid kits.
Tea tree oil is used to treat the following skin conditions:
Ring worm and athlete's foot
Skin tags and warts
Cuts and scrapes
Insect bites
Rosacea and cold sores
Acne and psoriasis
Dandruff
Sun burns
In fact, people often use tea tree oil as an alternative to conventional skin remedies. It is not inferior to them. According to MedlinePlus tea tree oil is just as effective for acne treatment as benzoyl peroxide. And it doesn't cause side effects like peeling and redness. Tea tree oil can also prevent infection and encourage healing.
Tea tree oil benefits for the health
Tea tree oil is widely used not only for skin treatment. It is beneficial for sore throat and sinusitis. It helps cure yeast infections of all types, vaginitis and candidiasis are commonly treated with tea tree oil. You may get rid of lice with the help of a tea tree oil shampoo. Proper application of tea tree oil may help cure cystitis and ear infections without antibiotics. One of the vital tea tree oil benefits is that tea tree oil is proven to treat infections resistant to antibiotics, such as Methicillin-resistant Staphylococcus aureus.
YOU MAY ALSO LIKE:  Why Rosehip Seed Oil is Good for Acne Treatment
Types
Tea tree oil can be used full strength or in diluted solutions, depending on the health conditions and your doctor's recommendations. As undiluted tea tree oil may cause irritation, redness and itchiness on a sensitive skin, it is safer to mix oil with base oil. Diluted solutions usually include 5 – 10 percent of tea tree oil.  Medline Plus notes that a 5-10 percent solution is generally used in studies for no more than four weeks.
SEE ALSO: Chamomile Oil for Skin: All Skin Problems It May Solve  
Warning
Pregnant and breast-feeding women should avoid the use of tea tree oil.
Tea tree oil should never be taken orally either in its undiluted or diluted form. If you use tea tree oil near the eyes, lips, genitals or as a mouthwash extra care should be taken. Never swallow even diluted solutions of tea tree oil.  Internal use of tea tree oil can lead to diarrhea, drowsiness, vomiting, poor coordination,  impaired immune function and coma. If you notice any of these symptoms, seek for medical attention immediately.