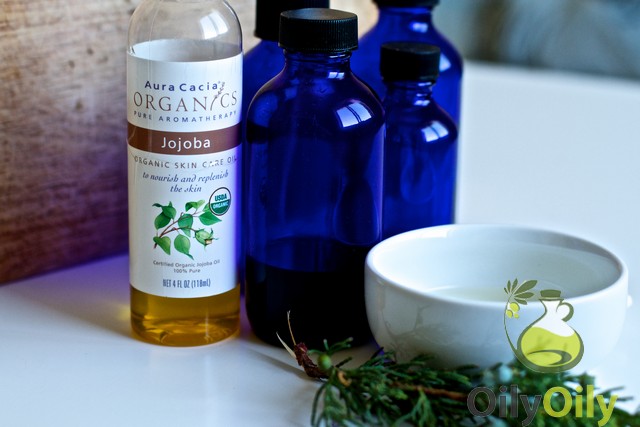 What is jojoba oil? Organic jojoba oil is a pure, natural product, received by cold pressing. Organic jojoba differs from other vegetable oils, because it does not contain fatty acids. It consists of inter-fatty acid esters, fatty alcohol.
General description and use
According to Agricultural Research Service, jojoba oil is called a vegetable wax, in its composition and properties it is similar to spermaceti. It possesses a thick consistency and at the same time has an extremely high penetration and absorption capacity even for oily skin. It creates a thin, invisible protective barrier, and doesn't leave an oily sheen on the skin and hair, maintaining its natural moisture without delaying the evaporation of gases and water vapor. That's why jojoba oil is often used for skin care. It has a high content of vitamin E.
Jojoba oil is extremely effective for the hair and scalp, restores the structure and volume of the hair. It treats acne up to their complete destruction. Jojoba oil is ideal for skin care of babies. It is used as prevention and elimination of stretch marks after pregnancy or changes in body weight. The oil cares perfectly of dry, chapped and cracked lips, eliminates the signs of cellulite on the body. It gives the skin smooth and beautiful color, caring for face, neck and décolleté.
Jojoba oil in its pure form is used for the daily care of any type of the skin, but can be also added to other vegetable oils: apricot, avocado, almond, peach, in proportion of 1:1. Try to use it carefully in its pure form, putting on small areas of the skin.
SEE ALSO: Other Jojoba Oil Uses for Your Health
Where to buy jojoba oil
Nowadays, there are a great number of brands of jojoba oil, which can be bought in various places: first of all it's a pharmacy. There's no problem to order jojoba oil through the internet. Also you can buy it in the beauty salon, at the barber's or in the shops of aroma oils. Various brands of jojoba oil, have already received a sufficient number of reviews, and they are all quite positive.
YOU MAY ALSO LIKE:  How to Choose the Best Fish Oil Brands
Famous brands
Desert Essence Jojoba Oil is pure and natural oil that easily penetrates and moisturizes your skin and doesn't leave any oily residue. This wonderful oil can be used as make-up remover, also cleanses clogged pores, leaving the skin clean. This oil is beneficial for your hands and feet. You can soften them by massaging with Jojoba Oil after bathing. Especially is good for moisturizing the scalp and for preventing dry skin or flakiness. Jojoba oil moisturizers can be made with this oil.

Oil Now Foods, certified organic. There are two kinds of this brand of jojoba oil – pure jojoba oil and certified organic jojoba oil.
Suyash jojoba oil. Possesses a high quality and competitive price at the same time.
Naturias produces Jojoba oil is obtained by cold pressing in Germany. The oil is 100% pure without any preservatives or chemicals. The seeds are from South America.
There are also such brands as cosmetic oil Aspera Jojoba and Jojoba oil Vivasan -also 100% natural oils, possess anti-inflammatory properties that can fight redness and inflammation of the skin with dermatitis. They treat inflammation of the joints. These oils are beneficial not only for dry but also for oily skin.