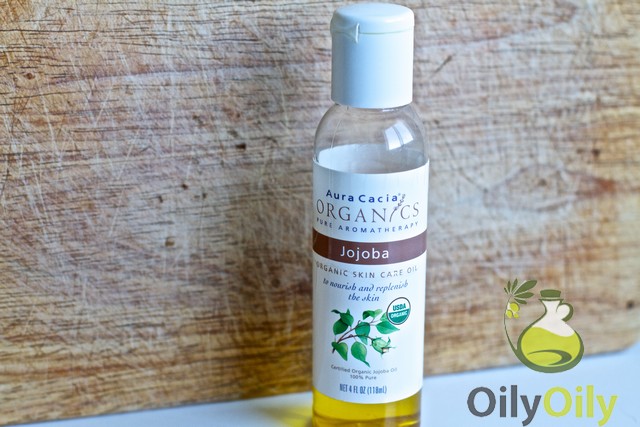 We know a great amount of essential oils, but it's hard and even impossible to meet something similar or equal to jojoba oil for hair. It is not even the oil, but vegetable wax because of the chemical composition and consistency.
Jojoba oil is obtained from the fruit of the Simmondsie chinensis (Chinese Symonds). It has been used for thousands of years.
Solar jojoba for all occasions
As Wikipedia states, jojoba contains amino acids, many minerals and vitamins. Vitamin E in particular gives it many valuable properties: anti-inflammatory, regenerating, antioxidant, preservative. It has a marvelous ability to penetrate and absorb, so it is widely used in cosmetics, besides other jojoba oil uses. The oil is suitable for all types of skin: helps to fight wrinkles, stretch marks, cellulite, dryness and itching, wounds, burns, crack sealing, scarring, inflammation, dermatitis.
RELATED: A Guide to Jojoba Oil Cleansing
Benefits of jojoba oil for hair
Jojoba oil is a real salvation for dry and damaged hair. Over-dried, dyed and weakened hair will appreciate it, if you use a course of nourishing masks based on jojoba oil.
According to JojobaOilForHair.org, this oil is completely absorbed by the scalp skin without weighing hair down or creating a greasy membrane on its surface. Therefore, it is suitable for frequent use.
Jojoba oil covers hair with invisible protective layer preventing negative impact of external factors and keeping the moisture inside. Whether you have dry or oily scalp, jojoba oil can normalize the sebaceous glands eliminating almost all problems related to skin and hair.
Despite the dense structure, the oil penetrates inside actively nourishing pores and hair follicles. Jojoba oil stimulates not only the hair growth but also the growth of eyebrows and eyelashes.
SEE ALSO:  Compare the Benefits of Tea Tree Oil for Hair and Choose the Best
How to apply jojoba oil for hair
Jojoba oil is a perfect independent cosmetic means. But it also works well with other oils, as the basis of many masks, creams and doesn't interrupt the flavor of other ingredients. It should be mentioned that jojoba oil is odorless.
Is jojoba oil good for hair in a pure form?
Jojoba oil for hair is rarely used in its pure form, but if you don't have any desire to create your own beauty products, simply apply the oil on the roots of the hair, rub it, and then distribute evenly throughout. Insulate your head with plastic wrap and a towel and leave the oil for 1-1.5 hours, then wash with a shampoo. You amy make a jojoba oil hair mask. After the course of these procedures, consisting of 12-15 masks, your hair will return to life.
Slightly warmed in water bath oil strengthens the regenerating effect on hair, so jojoba hot oil treatment for hair has positive effect too.
Shampoo enrichment with jojoba oil
This recipe suits to take care of weakened and brittle hair. 15-20 minutes before washing the hair, enrich your shampoo with 1 tablespoon of jojoba oil. Stir the ingredients, and rub into the hair roots. At the end of the procedure wash the hair thoroughly. Or you may try add jojoba oil to a homemade macadamia nut oil shampoo.

Also you may:
Rub jojoba oil into the hair roots for 15-20 minutes before washing.

Put jojoba oil to comb and brush your hair 2-3 times a day.

You can add to 1 teaspoon of jojoba 5-7 drops of chamomile oil, orange or ylang-ylang.
Jojoba oil is good for hair loss: when brushing, add one of the following essential oils: cedar, pine, eucalyptus, sage or ginger to jojoba.