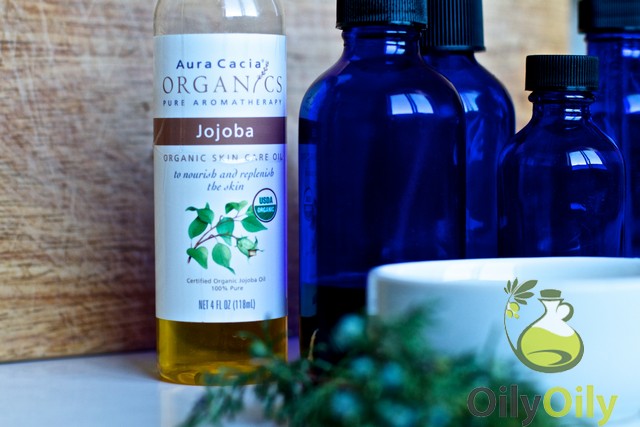 Oil cleansing method with jojoba oil may seem a little unusual, especially if you have oily skin. However, oil does not cause oily skin or acne. Usually the reason is a combination of hormones, bacteria and pollution.
Benefits of 

oil 

cleansing method
• The skin will become softer and will get a lighter shade. You do not get a feeling of tightness.
 • You may use the OCM no more than once a day. If possible, do it in the evening before bedtime. And in the morning just wash your face with cold water to cheer. You can use a moisturizing cream from time to time, but your skin may even not need it. Read more about a jojoba oil moisturizer.
 • This method works for all skin types.
 • It is Natural. Just make sure  you buy organic oils, without additives.
 • This method also works as make-up remover.
 • The layer of its own, necessary for skin oil remains on the face, we do not deprive the skin its own protective layer.
 • Great for winter time, when it is difficult to choose the appropriate skincare.
SEE ALSO: Healing Properties of Almond Oil for Acne
Why jojoba oil
Jojoba oil is easily absorbed by all skin types, including oily, states the Mod Cabin. When applied to the skin it creates a thin, steady and flexible layer that nourishes and protects against harmful environmental influences. Jojoba oil does not cause irritation and allergic reactions.
Methods of application of jojoba oil for face
Jojoba has thick consistency, that's why it is recommended to dissolve it in proportion of 1:2 with lighter natural oil (rosehip oil, kernel oil, etc.), recommends JojobaOilForSkin.Org. Read more about using jojoba oil on face.
SEE ALSO: True or False: Does Coconut Oil Clog Pores?
Oil cleansing method with jojoba. Step-by-step guide
1. Preparation. Mix oils in selected proportions. Lightly spray the face with warm water. (It is necessary to warm the skin a little bit). You don't need to remove make-up; it will wash off with oil cleansing.
2. Purification. Pour the oil in the palms and apply to the face. Massage gently, moving from bottom to top. Massage should last for 2 minutes, and then leave the oil at your face for about 30 seconds.
3. Rinsing the face. Water must be hotter than you normally use for washing. You'll need a sponge, wet it in hot water. First, put a hot wisp to the face for 10-15 seconds, warming the skin. Then gradually begin to remove oil from the face with the help of the sponge.
How often should you use OCM?
The frequency, with which you'll use cleansing oils, depends on you. Some do it every night. But it can be enough to do it 2-3 times a week. OCM is awesome because it helps us to avoid foam products containing sulfates or sulfides. Thanks to this method your skin will become more radiant and glowing, without losing its own layer of skin oil.