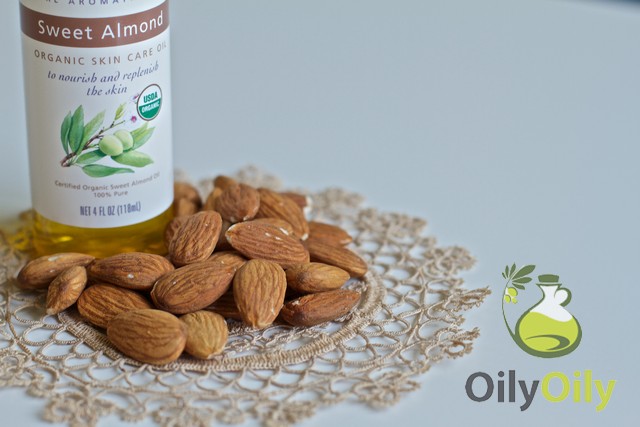 Stretch marks appear when the skin loses its elasticity and become dry. Some women are prone to stretch marks because of their genes. Usually their mothers got them. If you know that you have a possibility to get stretch marks, don't wait for them. Take care of your skin from now to do your best and you will possible avoid them. The largest factor needed to prevent stretch marks is skin elasticity. Supple and moisturized skin can change shape and stretch without developing these scars.
Sweet almond oil possesses all necessary nutrients to maintain your skin's elasticity and even to make your skin hydrated, nourished and thus more elastic and less prone to stretch marks, as Susan Knowlton says in her work "Almond Oil Health Benefits".  Moreover, it also may help lessen the stretch marks you already have.
SEE ALSO: Almond Oil for Hair: Easy Treatment  and Visible Changes
Benefits of sweet almond oil for stretch marks prevention
Sweet almond oil wonderfully suites for stretch marks prevention due to its beneficial properties described in the article "Almond Oil for Skin" (Almond Oil. All about Almond Oil):
Almond oil contains essential fatty acids, which protect the skin from moisture loss and moisturize the dry skin healing it.

It is an excellent emollient. It soothes the skin.

It nourishes the skin with vitamins and minerals.

Its texture is light and almond oil is absorbed fast without greasy traces left.

It has a slight pleasant sweet fragrance.

Vitamin E in its content stimulates the growth of new cells and supports the elasticity of the skin.
SEE ALSO: Almond Oil for Skin: Benefits, Application Tips and Warnings 
How to use almond oil for stretch marks prevention and eliminating
Every woman should take care of her skin from the beginning of her pregnancy. It is necessary to rub almond oil over the body especially on thighs, breast and abdomen areas twice a day. Use almond oil after the child's birth as well, at least for 6 weeks.
It's an excellent idea to apply almond oil after a shower or a bath when the pores are open. The oil will penetrate the skin better.
You may add essential oils you like for aromatic treatment.