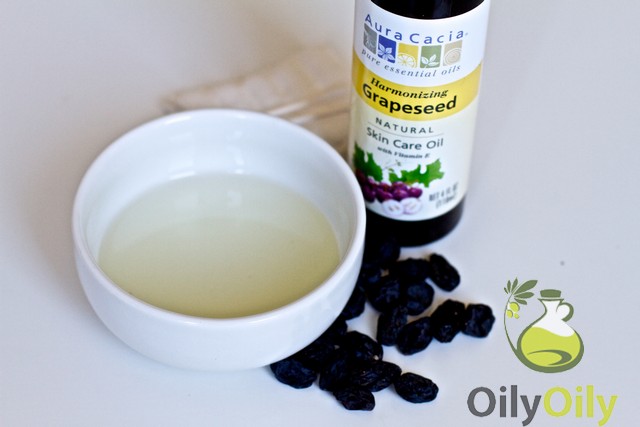 Grapeseed oil is a very popular ingredient in many recipes for homemade skin remedies. Due to its versatility, excellent emollient and diluting properties grapeseed oil can help solve various skin problems. In spite of prejudges against using oils for acne-prone and oily skin, grapeseed oil actually helps to regulate the natural oil production of the skin and to clear up pores, says holistic skin care expert Cecilia Wong.
The grapeseed oil  skin exfoliator recipe
The scrubbing of skin regularly helps get rid of dead cells, accelerate the skin rejuvenation and reduce the discoloration of acne scars.
Ingredients:
grapeseed oil;

1 tablespoon of sugar (for dry skin) or 1 tablespoon of sea salt (for oily skin);

1-2 drops of any citrus essential oil (optional);

1-2 drops of essential lavender or calendula oil (optional).
There is should be enough grapeseed oil to moisture the sugar (salt) granules. Then the mixture should be carefully massaged into the skin with special attention to the acne scars spots. The massage should last for 5 minutes and then the mixture should remain on the face for 10 more minutes before being rinsed with tepid water. Note: if the face begins to sting, there is no need in the additional 10 minutes; only half the salt (or sugar instead of it) should be added next time.
The grapeseed oil facial mask recipes
Grapeseed oil is a beneficial ingredient in facial masks as it is absorbed by the skin easily. This mask cleanses, rehydrates and nourishes the skin. Besides it has anti-inflammatory activity what makes it possible to use as acne-prone or itchy skin treatment, according to Acne Skin Site.
Ingredients:
grapeseed oil and almond oil – ¼ cup each;

brown sugar – 1,5 cup;

any essential oil (optional).
All the compounds should be mixed up. The needed amount of the mixture should be evenly and thickly applied onto the face and it should stay there for about 15 minutes. Then the mask should be removed with a wet warm cloth. The mixture may be refrigerated and stored for up to half a year.
The grapeseed oil cleanser recipes
 Suggested by Liza Barnes, Health Educator.
1. Body Wash
Grapeseed oil keeps the skin clean and healthy and lavender has antiseptic and healing effect, prevents scarring and balances the skin, according to Esoteric Oils.
Ingredients:
1/2 cup liquid, unscented castile soap (olive oil

based soap

made in special way);

1 tablespoon of grapeseed oil;

4 drops of lavender essential oil.
To get the mixture all the ingredients should be swirled properly together. The body wash should be stored not more than a month.
2. Facial wash (preferred for dry skin)
It will clean up the skin without drying it out.
Ingredients:
1 cup of full-fat plain yogurt;

2 tablespoon of grapeseed oil;

1 tablespoon of freshly-squeezed lemon juice.
The mixture should be whipped until smooth. The facial wash can be stored in the refrigerator for a few weeks.
3. Make-up remover
Just a few drops of plain grapeseed oil can be used for removing make-up and at the same time moisturizing and nourishing the skin.