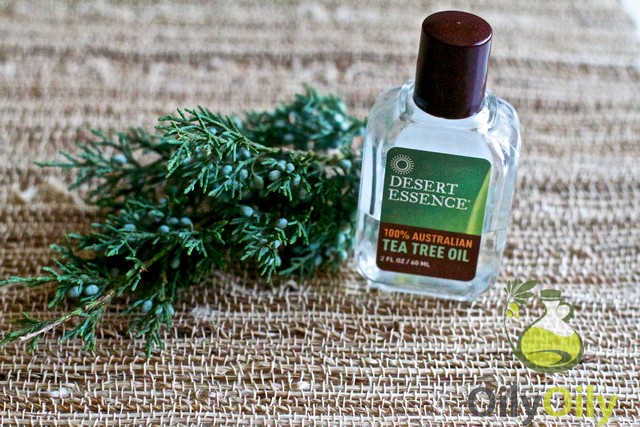 According to Wikipedia tea tree oil possesses antibacterial and antifungal properties and effective against skin infections. We'll offer you to make a tea tree oil soap by yourselves.
Complex recipe
Tea tree oil can be combined with other oil for a complex of benefits for you skin. We recommend olive oil for skin, coconut oil for skin and red palm oil for skin. Try them and choose the variant you prefer.
 For this tea tree oil soap recipe, you will need:
Olive oil (15 oz)
Coconut oil (3 oz)
Shea butter (4 oz)
Red palm oil (5 oz)
Lye (3.7 oz)
Distilled water (6 oz)
Almond milk (4 oz)
Oats (2 tablespoons)
Tea tree essential oil (1 oz)
Lavender essential oil (1 oz)
Natural silk
SEE ALSO: Tea Tree Oil Benefits for Skin 
How to make
Take dry lye and put in a container suitable for sodium hydroxide.
Weigh distilled water. Break down into pieces and soak about 1/2 of a ball of natural silk in water for a few minutes.
Combine the lye and water. Pour the lye into water, not vice versa. Stir it, you will notice that silk dissolves.
Place a thermometer into the mixture. Set the solution aside until the temperature reduces to 100°F. Measure out the oils needed for the recipe.  Melt them in a stainless steel pot.
Blend the essential oils in a separate container.  Grind 2 tbsp rolled oats.
Measure out natural and sugar free almond milk. All ingredients are ready.
The lye solution and the oils mixture should be of 100°F.
Slowly pour the lye solution into the oils manually stirring until you receive an even color.
After that pour in the almond milk. Blend with a stick blender.  When it becomes to thicken up, pour in the additives:  oatmeal and essential oils. You soap should look like a pudding and be of even texture and color.
Pour the soap into the mold, cover with a lid and insulate for 24 hours. After that carefully remove the solidified soap, cut and leave for 4-6 weeks. It allows the excess water to be evaporated.
Easy recipe
If the previous recipe is too time-consuming or difficult for you it is possible to take 2 cups of glycerin soap base, melt it and mix with 2 tablespoons of tea tree oil. Cool in the molds.
RELATED: Tea Tree oil Shampoo Recipe 
Liquid soap recipe
In case you prefer liquid soap there is another recipe of DIY tea tree oil soap.
Ingredients
4 cups of water
3 oz bar soap
1 tsp. liquid glycerin
1 tsp. liquid vitamin E
3 drops tea tree oil
5 drops citrus essential oil
5 drops lavender essential oil
How to make
Grate soap into any pot with 4 cups of water and heat. Remember stirring. Boil for a few minutes. The soap is melted and you add glycerin, oils, mix them and cool. Pour in a glass dispenser. The soap is ready after 12 hours.